Crypto News
Solana Price Prediction as Excitement Around VISA Partnership Grows – Can SOL Reach $1,000?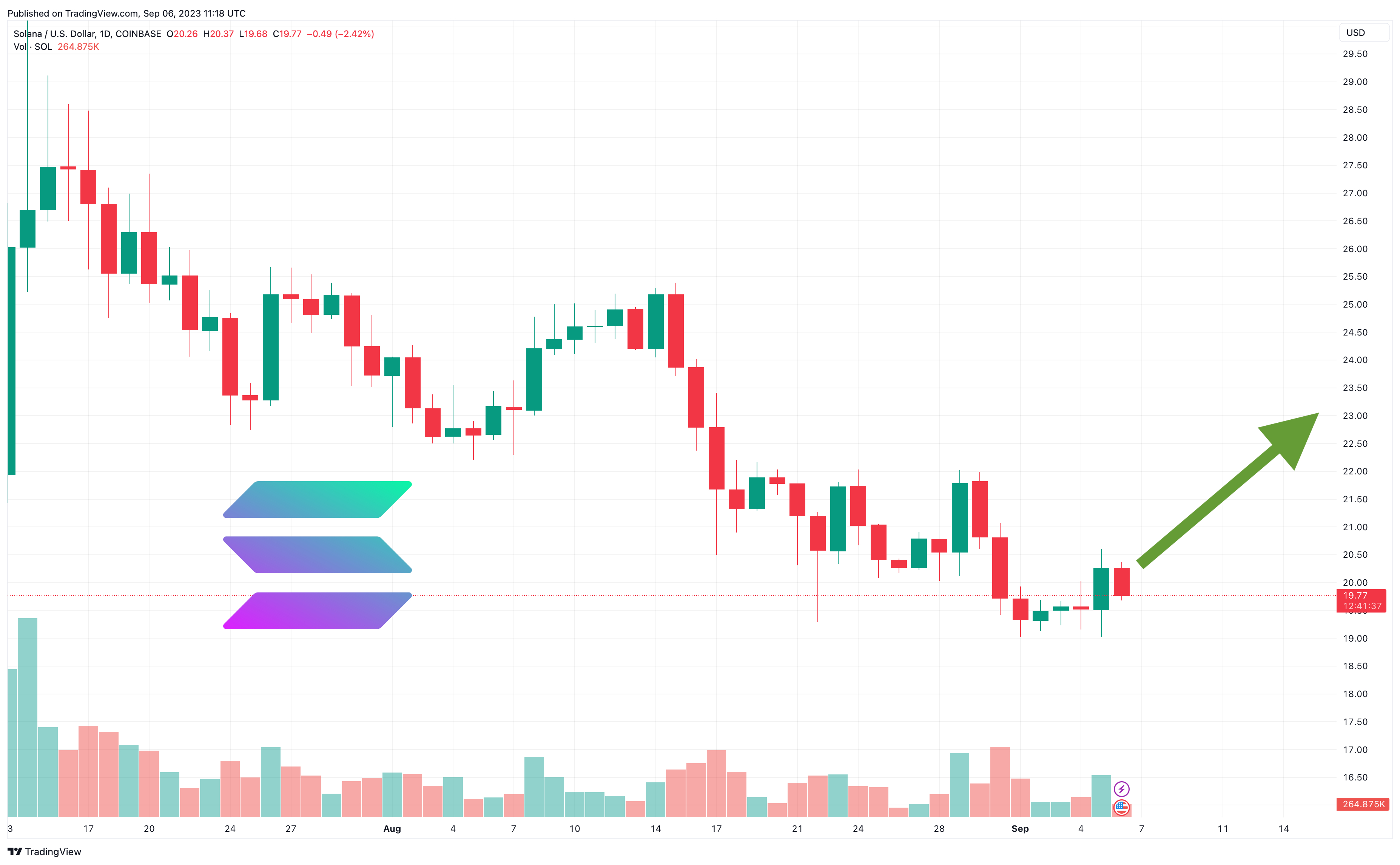 The price of Solana (SOL) has risen by 1% in the past 24 hours, moving to $19.77 after Visa announced it would be expanding its stablecoin pilot to include the Solana blockchain.
Despite this good news, SOL remains down by 8% in a week and by 14% in the last 30 days, although the altcoin remains up by 98% since the beginning of the year.
And the news with Visa paves the way for further gains in the coming days and weeks, with SOL's oversold position meaning that it's due a big rebound very soon.
Solana Price Prediction as Excitement Around VISA Partnership Grows – Can SOL Reach $1,000?
Solana's good Visa-related news comes at the right time as far as SOL's chart is concerned, with its indicators in a position where a sustained recovery should soon be incoming.
SOL's relative strength index (purple) has languished just below 40 for the past couple of weeks, meaning that the coin has been oversold and is now discounted relative to the levels it had previously attained in previous months.
In addition, the coin's 30-day moving average (yellow) is about to fall below its 200-day average, a move which tends to indicate that a recent fall has bottomed out and that a given asset is ready to climb again.
This view is supported by SOL's support level (green), which has risen in the past few days, implying that the coin isn't likely to fall further in the near term.
Indeed, the Visa news has provided a catalyst for SOL's apparent recovery, with the card and payments giant announcing yesterday that it will be including the Solana blockchain in its stablecoin pilot, and that it will be working with Worldpay and Nuvei as part of Solana's involvement in the pilot.
This news provides strong confirmation of Solana's status as one of the biggest rivals to Ethereum in the cryptocurrency sector, with Visa writing in its accompanying press release that Solana is a "high-performing" blockchain, and that the latter achieves "400 millisecond block times, averages 400 transactions per second (TPS) and typically surges to more than 2K TPS across a variety of use cases."
It's therefore likely that this announcement could help SOL to continue rising over the next few days, with the altcoin potentially on course to reach $21 by the end of the weekend.
Looking at the bigger picture, Solana's development in the past year as a more reliable high-performance blockchain (after last year's outages) should also mean that SOL steadily returns to growth in the coming months, with the coin likely to hit $30 by the end of the year.
Alternative High-Potential Altcoins
While SOL is set to enjoy a sustained recovery over the next few weeks and months, such a recovery may be a little too gradual for some traders, who may prefer to look at newer altcoins with more chance of big short-term gains.
Such traders may prefer to look at presale tokens, given that the best of these can often rally big once their sales end and they list on trading platforms.
One of the newest presales in the market belongs to Bitcoin BSC (BTCBSC), a BNB Chain-based version of Bitcoin that offers holders the opportunity to own a form of BTC that provides them with passive staking income.
Bitcoin BSC has just kicked off its presale, with 1 BTCBSC token costing $0.99, a price which Bitcoin itself had back in 2011.
The coin is therefore providing investors with the chance to compensate themselves for having missed out on Bitcoin back when it was extremely cheap, with the sale having a hard cap of 6,125,000 BTCBSC.
As with the original Bitcoin, BTCBSC will have a total max supply of 21 million, making it a deflationary cryptocurrency.
Yet the remaining supply of BTCBSC will not be mined via proof-of-work, with holders of the new altcoin having the opportunity to earn a passive income by staking the token.
Combined with its hard cap, this is likely to make Bitcoin BSC popular with investors, with growing numbers of traders seeking out staking profits during the ongoing bear market.
It should also be remembered that Bitcoin BSC will be highly decentralized, with almost its entire supply either going towards the sale or towards staking rewards.
New investors can secure themselves some of this supply by going to the official Bitcoin BSC website and connecting their wallets.
From there, the sale is expected to end with Bitcoin BSC listing on BNB Smart Chain DEX, with other listings likely to follow soon after.
Disclaimer: Crypto is a high-risk asset class. This article is provided for informational purposes and does not constitute investment advice. You could lose all of your capital.


Source link
#Solana #Price #Prediction #Excitement #VISA #Partnership #Grows #SOL #Reach